Our indoor/outdoor daycare facility is an open-run center. Your dog will get plenty of exercise and catch a few much-needed ZZZ's during midday naptime.

We offer 5-day, 10-day or 20-day passes, as well as a daily rate. Our daycare is open seven days a week from 7 a.m. to 7 p.m.

To enroll your dog in daycare, we must first conduct a temperament test to be sure your dog is well suited to group play. You should bring your dog and your dog's vet records when you come to view the facility. We will let him get acquainted with some of our regulars for 10-15 minutes. You will need to fill out a registration form and customer contract and choose a payment plan.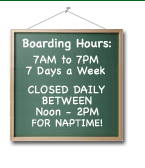 2 blocks west of Western Ave.